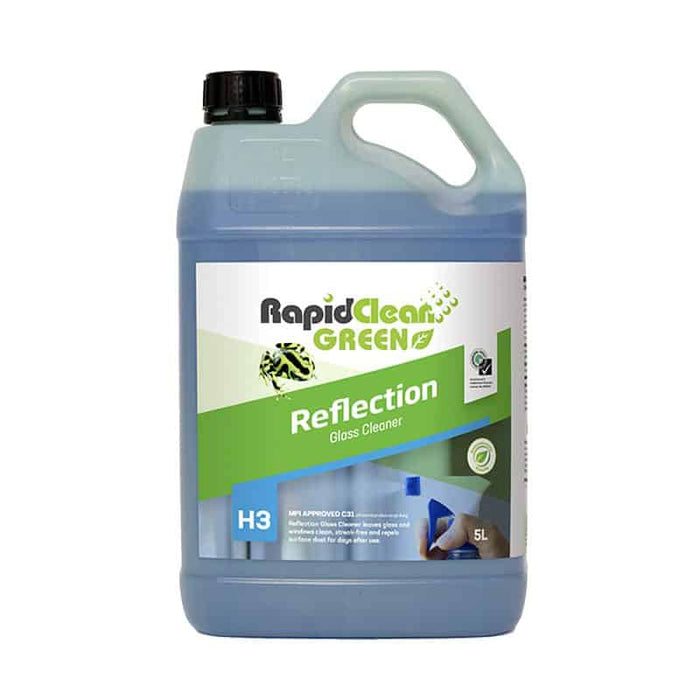 RAPIDCLEAN GREEN REFLECTION GLASS CLEANER
RapidClean Green Reflection Glass Cleaner is formulated to cut through dirt and grease on all surfaces. Spray Reflection Glass Cleaner onto a glass surface or window and wipe it off for a streak free shine. Recommended for glass, mirrors and hard surfaces including; counter tops, stainless steel, chrome, plastic, enamel, ceramic tile, vinyl, granite, porcelain, splash backs and melamine tabletops.
APPLICATION
REFLECTION can be used to clean all types of hard surfaces in one convenient spray 'n' wipe application. Surfaces include windows, mirrors, benches, cupboards, cooktops and appliances.
It will remove all types of soils including greasy food soils around cooking preparation areas.
BENEFITS:
– Multipurpose detergent.
– Completely streak free.
– Safe on all surfaces.
– Will clean a wide range of surfaces.
– Use as received – no premixing required.
Septic Tank Safe
Commercial Quality
Cost Effective – Highly Dilutable
ECO Preferred
Ammonia Free
Non-Flammable
ECNZ LICENSED
New Zealand Made and Owned
75% of this bottle is made from Recycled Plastic. We hope you don't mind some colour variation in our bottles as they are made from Post-Consumer Recycled Plastic (PCR).